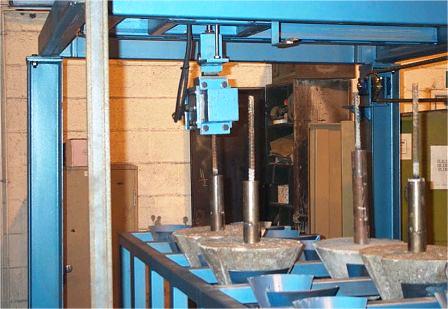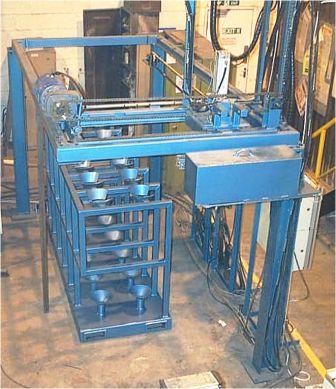 Monocon has designed and developed a range of innovative automatic dart loading machines (ADLM's) for clients operating in the steel and metals industry all around the world, and specifically in countries such as USA, UK and Taiwan.
Our experience in the slag control sector is second to non as we are able to not only supply the darts, but innovate value-add automated equipment that helps to improve operator/plant health and safety, reduce operational costs and/or increase production throughput. Please see the range of our traditional dart machines here.
Monocon has supplied more than 20 complementary Automatic Dart Loading Machines in 5 steel plants. An example of one of the Monocon Automated Dart Machines is shown to the right and 3D models shown below. For further information on this product, please do not hesitate to contact us or click here for related news.
ADLM Design Features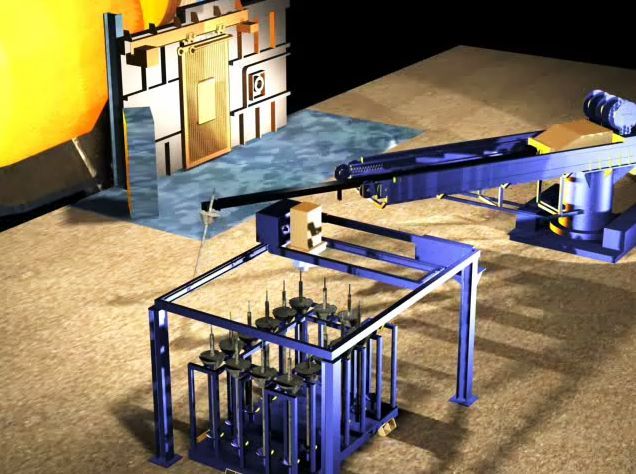 ADLM Design Features
PLC control with pre-stored programs and movement cycles.
Consistent and accurate dart pickup.
Robust machine construction.
Maximum access under ADLM dart pickup head.
Includes a specially configured dart cassette for multiple darts (additional cassettes are optional).
Can be configured and used in conjunction with all dart loading machine designs.
Our automatic dart loading machine are typically used with certain types of Slag Dart machines in steel plants who wish to improve safety and minimise activities on the operations floor of the BOF shop. A special dart cassette is used to transport a number of pre-assembled darts to the operations floor. The special dart cassette is placed in position under the ADLM and following the insertion of a dart into the furnace the dart machine is automatically re- loaded with a new dart ready for the next heat.