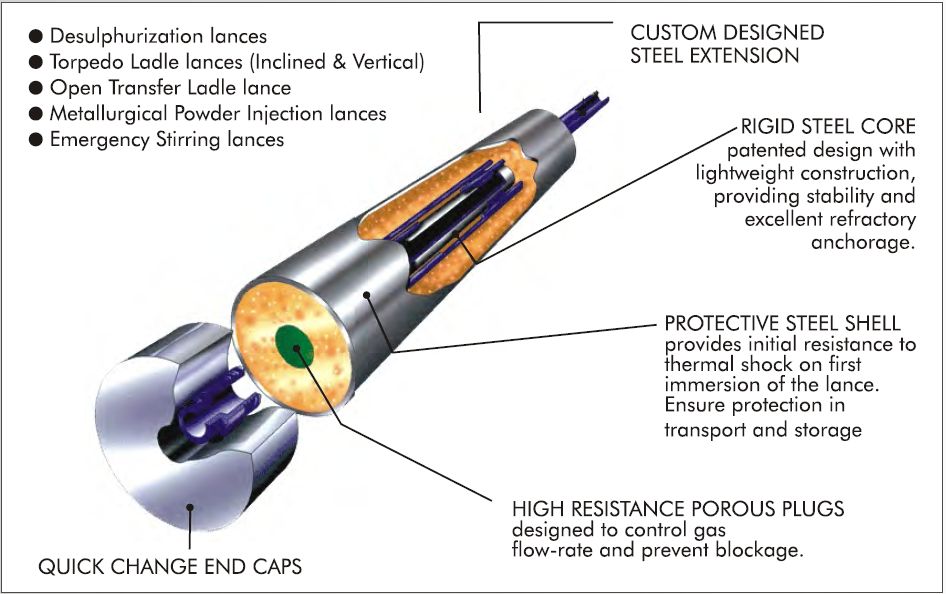 Monocon International Refractories Ltd. are market leaders in the design, manufacture and supply of a range of metallurgical lances. Our lances are manufactured in our UK Refractory facility to a range of design specifications for all Iron and steel making requirements.
Lances comprise of a composite assembly consisting of a steel tube (the 'core') surrounded by castable refractory material. The core is usually surrounded by a strengthening 'cage' to resist bending and flexing in service.
Monocon produces lances for different applications in iron and steel making processes. The products involve combination of design innovation and high technology refractory materials tailored to suit each application.
Please contact your nearest Monocon sales office for further information, pricing and availability.
Lance Body Types

Lance bodies can be 'zoned' with different refractory grades to obtain the most efficient wear profile i.e.'freeboard' non-metal contact zone / body and/or slagzone material combinations
The lance top connectors (extensions) are fitted separately due to the casting technique, enabling extension re-use to feature as a cost save in certain lances
An added benefit of 'body only' supply (when extensions are re-used) is maximised efficiency of loading for transportation